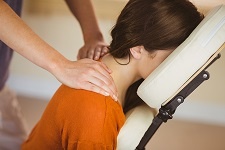 Have you been looking for a career where you can work independently and make a good living – as well as help people feel their best? If the answer is yes, then attending a massage school may lead you to the career you will be proud of.
Learning styles in massage school
What is your learning style? Do you do best in a classroom setting where the instructor gives lectures? Do you learn best by using charts, videos or other visuals? Or, are you able to retain more information if you are participating in activities that help the information to sink in?
Lecture
Visual
Kinesthetic (hands-on)
Lecture
Do your eyes glaze over and your mind wanders during long lectures? If the answer to that is yes, you aren't alone. You try to pay attention, but once the lecture is over you realize you haven't retained what you should have. A large majority of classrooms use the lecture-based type of teaching.
While some lecture in the classroom is necessary, studies have shown that during a lecture, the instructor usually says about 100-200 words a minute. Out of these, the typical student hears only about half. Add a wandering mind to the equation, and comprehension during lectures is an ineffective way to teach – and to learn.
Visual learner
If you learn best by using visual aides, you probably have found methods that help you organize and retain information. There are many great visual learning tools used in massage therapy school. Anatomy charts, muscle maps and models compliment a student that does best with a visual learning style.
Kinesthetic learner
Many people learn best when they are engaged in activities – watching and performing the task that is being taught. Those who prefer the kinesthetic learning style may find it difficult to sit through a lecture, and retain very little of what is shared.
Kinesthetic learners like to get in and do it! If this physical and hands-on style of learning is more like you, you may find massage therapy school right up your alley. Since massage therapy is a hands-on field of study, most students who are interested in massage school are kinesthetic learners. When you attend a massage therapy school, you will experience a lot of hands-on activity – both by learning to do massage, and by receiving massages from your fellow massage therapy school students.
Massage school typically integrates all of the learning styles in ways that will lead you to a successful career in massage therapy.
Click Here: For more information about learning styles used at seattle massage schools