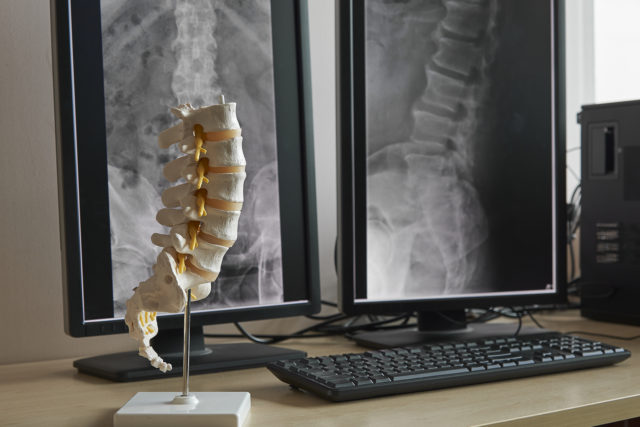 Degenerative disc disease (DDD) is a medical condition where one or more discs in the back lose strength. Despite the name, degenerative disc disease isn't technically a disease but a progressive condition that worsens over time due to wear and tear, or injury.
The discs in your back are situated in between the vertebrae of the spine and act as cushions and shock absorbers. They help you stand up straight and move through everyday motions, such as bending over or twisting around. As people age, DDD can worsen and cause mild to extreme pain that can interfere with your everyday activities.
Symptoms of Degenerative Disc Disease
Some of the most common symptoms of degenerative disc disease include pain that:
Primarily affects the lower back
Could extend to legs and buttocks
Stretches from neck to arms
Can be worse from sitting
Worsens after bending or twisting
Comes and goes in a few days or extends to several months
People with DDD might exhibit less pain after walking or exercise. Additionally, DDD can cause weakened leg muscles and numbness in your arms or legs.
Causes of Degenerative Disc Disease
DDD is primarily caused by natural wear and tear of spinal discs. Over time, discs tend to dry out and lose their support and function, leading to pain and other symptoms. DDD can start developing in your 30s or 40s and progressively worsen as you age. However, the condition can also be caused by overuse from sports or repetitive activities, or injury. Once a disc is damaged, it can't repair itself.
Risk Factors
Age is the major risk factor for degenerative disc disease. The discs in between the vertebrae often shrink down and lose their cushiony support as people age. Almost every adult above the age of 60 has some form of disc degeneration. However, not all cases cause pain.
Long-term repetitive activities that place a lot of pressure on certain discs can also increase your risk. Other risk factors include car accidents, overweight or obesity, and a sedentary lifestyle.
Diagnosis of DDD
An MRI can help detect degenerative disc disease. Your doctor may recommend this type of imaging test based on a physical exam or an investigation into your symptoms and health history. Imaging tests can reveal damaged discs and help rule out other triggers of pain. When you receive a diagnosis of DDD, it does not mean that you're disabled or headed for a downward spiral of spinal degeneration. In fact, DDD is often a part of the natural aging process that we all go through at some point in life. And the good news is that you can mitigate the associated pain through a variety of treatment solutions, including massage therapy.
Massage Therapy Treatment for DDD
From a Massage Therapy point of view, the approach in treating DDD is to strike a balance between reducing muscle tension and enhancing traction (decompressing the targeted vertebral segments). Finding a "green zone" of treatment is critical since the spasms that occur through the neck or low back happen because the body is trying to protect that area. By applying slow, repetitive, methodical massage between soft tissue and joint mobilization (spinal decompression), massage therapy can help relieve pain and allow you to move easier and execute strengthening exercises efficiently.
Massage therapy generally helps in these three ways:
Increasing Blood Flow and Circulation: Proper blood circulation ensures that critical nutrients flow back fully to the strained muscles and tissues. This makes the muscles/tissues stronger, helping relieve the strain coming from the degenerating discs.
Decreasing Tension: The muscles can become tense as they struggle to compensate for the weakening discs. When these muscles are manipulated during the massage, they become relaxed, which improves the range of motion and flexibility.
Increasing the "feel good" chemical: Massage therapy releases Endorphins, a mood-enhancing chemical that is released in the brain. This "feel good" chemical helps in reducing pain and enhancing recovery.
Prognosis Possibilities
Without treatment or therapy, DDD can gradually progress and cause more adverse symptoms. While surgery is a treatment option, other less invasive treatments such as massage therapy have been found to be just as helpful yet less costly. A clinical study involving a 66-year-old female patient with cervical degenerative disc disease in her lateral left facet joint recorded impressive outcomes. The patient was experiencing symptoms of severe neck pain accompanied by restricted cervical range of motion. She also exhibited radicular left shoulder and arm pain. The objective of the study was to determine the effect of therapeutic massage on the patient's symptoms and impairments of cervical DDD.
After multiple treatment sessions, the patient's symptoms had decreased and cervical ROM had moderately improved. There was also a reduction in reported pain and an improvement in functional daily activities. This is an indication that massage therapy is a favorable treatment intervention for DDD symptoms.
Bottom Line
Massage can help improve the symptoms associated with Degenerative Disc Disease for a prolonged duration of time as long as you continue to follow the maintenance schedule that your Massage Therapist lays out. Massage therapy typically reduces muscle strain, improves flexibility, and mitigates pain. However, you can achieve the best results by working in conjunction with other health care professionals. Keep open communication between your doctor and your massage therapist to ensure the best treatment.
To learn about becoming a massage therapist in Seattle contact one of the following local massage schools; Northwest Academy for the Healing Arts or Seattle Clinical Massage School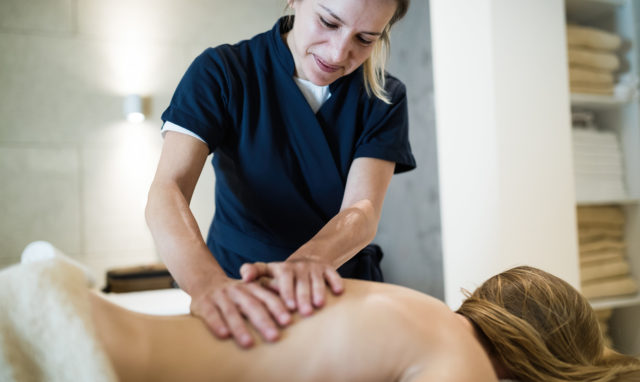 Massage Therapy Job Outlook – A career in massage therapy gives you the power to relieve pain and promote health while earning a good income. Nationally, the field is expected to continue growing at an accelerate rate through the year 2024.
For massage therapy Seattle and its tech-heavy culture make a perfect match. If you are thinking about a career in massage therapy Seattle is one of the best places in the country.
Washington State Requirements
Massage therapists are regulated by the Washington State Department of Health, Board of Massage. To maintain an active license, therapists must meet the following requirements.
Applicants must complete an approved training program that includes:
130 hours anatomy and physiology
40 hours kinesiology instruction
50 hours pathology
265 hours theory and practice, including technique
55 hours clinical and business practices
Red Cross first aid certification
CPR certification
4 hours HIV/AIDS discussion
Those who received training out-of-state or who are licensed in another location may not meet Washington state education requirements. To verify previous experience, a verification form must be completed by the jurisdiction or school where your credentials were gained.
All applicants must successfully complete the National Certification Board for Therapeutic Massage and Bodywork (NCBTMB) or Federation of State Massage Therapy Boards (FSMTB) examination.
After completing the training program and testing, therapists must submit all necessary paperwork to the Board of Massage, along with any applicable fees. Once your application information is verified, you will receive your Washington state massage therapy license.
Massage therapy licenses expire on the holder's birthday every year. They can be renewed up to 90 days in advance.
Every two years, practitioners must complete 24 hours of continuing education credits. These must include:
8+ hours direct massage skills training
4+ hours professional ethics, communication, or review of state laws and regulations
2 hours review of professional roles and boundaries
Massage Therapy Seattle Area Employment Outlook
For those practicing massage therapy Seattle has a variety of job opportunities in different industries.
Personal care services, such as in-home aid
Working with other health practitioners as part of a team
Amusement and recreation, such as spas and high-end hotels
Hospitals and long-term rehabilitation care
Massage Therapy Job Outlook for Washington is great in general. For a successful career in massage therapy Seattle is a great place to set up a freelance operation. For mobile massage therapy Seattle is the perfect place to create your own career by making office visits.
When it comes to pay for those practicing massage therapy Seattle is one of the best paying locations in the country. Seattle area therapists command an impressive hourly mean wage of $26.89, well above the national average of $19.17.
Washington has the 4th highest demand for massage therapists in the country. The state also consistently posts high employment rates for those in the field.
Massage therapy positions in Washington are expected to increase by 41.3% in the next 8 years. The demand for new massage talent will soon cause a shortage of qualified applicants. This could drive wages up in the future, making the area even more attractive for knowledgeable bodywork professionals.
When practicing massage therapy Seattle offers opportunity and variety. Enjoy a fulfilling and profitable career as a respected health professional. When it comes to massage therapy Seattle is the best place in the country to learn, practice, and live.
For questions relating to the Massage Therapy Job Outlook in Washington State contact our admission department today!