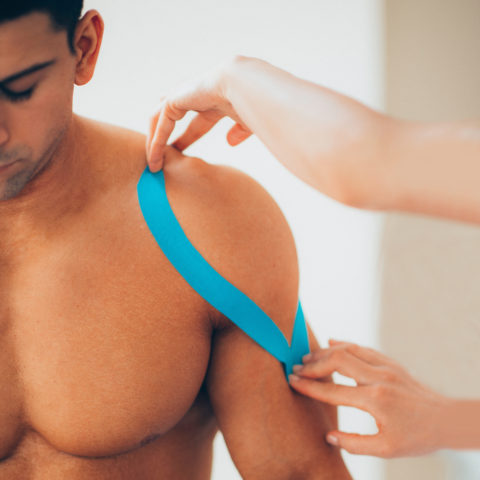 Since the 1970s, athletes have been using kinesiology taping to help them heal faster and build stronger muscles. Therapists have recently started using taping methods to bring those same benefits to their clients. Massage therapists can use taping to prolong relief and increase the body's natural ability to heal itself.
What is Kinesiology Taping?
Kinesiology studies the body, and how it uses each part to move. Using knowledge of physiology, biomechanics, and psychology, the kinesiologist seeks to improve strength and muscle condition.
Kinesiology tape is a thin, stretchy fabric that adheres to the skin with acrylic adhesives. The adhesive itself is mild on the skin but very strong. The tape is waterproof and can stay in place up to five days. Usually made of brightly colored cotton, it has the same thickness and elasticity of healthy skin. It is designed to not cause any pinching, binding, or restrictions.
When applied to the skin, the tape gently lifts surrounding skin, allowing for a better flow of interstitial and lymph fluids. These fluids help remove dead cells and other waste caused by injury or a hard workout. They also deliver vital nutrients that cells need to repair themselves.
Interstitial fluids are also responsible for facilitating intercellular communication. When muscles cells are able to easily send and receive the electrical impulses that stimulate muscle movement, coordination and flexibility are dramatically increased.
Benefits of Taping
When applied around problematic joints and muscles, taping increases the healing and pain relieving properties gained from other therapy methods.
Reduce painful inflammation by allowing the removal of cellular waste.
Reduce pressure on nerve endings by lifting the skin away from pain receptors.
Relax hypertonic muscles that make proper movement and posture impossible.
Revive dying or inhibited muscles by restoring needed nutrients and fluids.
Taping allows the body to repair cell damage caused by injury. This allows muscles to restore or improve strength and proper function.
Kinesiology tape is a useful addition in the treatment of many common disorders.
Sprained or strained muscles and ligaments
Bruising
Joint realignment and instability
Rounded shoulders or spine
Recently healed fractures
Tendonitis
Arthritis
Fibromyalgia
Taping and Massage Therapy
Patients with chronic conditions benefit most from a combination of massage therapy and taping. When tape is applied after massage:
Muscles that have been stretched and warmed by massage will stay loose longer.
The body can remove lactic acid more easily, which decreases soreness after deep tissue techniques.
Softens scar tissue and fascial adhesions so future sessions can be more productive.
The natural pain relieving ability of massage will last longer.
Added stability will keep muscles from moving out of alignment.
Tape can be safely applied to any body part. Different application methods encourage pain relief, structural support, and other therapeutic goals.
Kinesiology taping is an effective addition to any physical therapy routine. It can be used to treat a variety of musculoskeletal disorders and injuries in a noninvasive manner. When therapists add taping as a final touch to their therapy process, clients increase healing, flexibility, and muscles strength while reducing pain, swelling, and possible injury.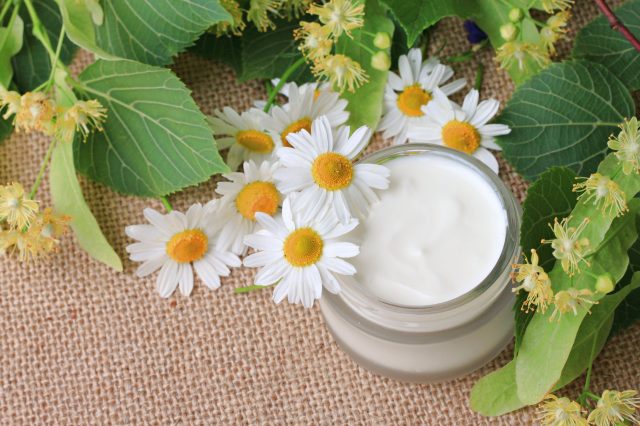 What natural ingredients help a massage therapy lotion glide with ease?
Some of the best natural ingredients you want to make sure your massage therapy lotion contains are jojoba, grapeseed, avocado or almond oil. These oils are light and airy, but are not heavy and greasy on the skin. Overtime as you are massaging, they will absorb into the skin, but they will not absorb so fast you have to stop to constantly grab more lotion to continue providing a nice gliding massage to your patient. After all, a massage therapy session is all about constant smooth flowing touch that provides healing to the body.
What massage therapy lotions are best for what skin types?
Choosing the right massage therapy lotions for the particular skin type is essential for giving a quality, yet beneficial massage therapy massage. For example, acne prone skin would benefit best from massage lotions that contain not only the oils of jojoba, grapeseed, avocado, or almond oil, but also tea tree oil since it contains antibacterial and antiseptic properties. Skin types that are sensitive and need nourishing during massage therapy to help relax the mind and body are ones that contain lavender, rosemary, rose absolute or chamomile. Skin types with stress marks, scars, signs of aging will benefit from massage lotions that contain mango, shea, or cocoa butter. Feel free to use massage therapy lotions that contain arnica in them, as it is a natural pain reliever.
What scented lotions are best to use during massage therapy sessions?
Picking out the right scented massage lotion before giving your patient a massage is important as well. Many patients are sensitive to scents and therefore we always provide an unscented lotion. However, sometimes your patients might be interested in the pleasant addition of a scented lotion. For patients that are feeling stressed, anxious, panicked or depressed lavender or patchouli scent lotions are best. Patients that want an uplifting massage might enjoy a therapy session with peppermint, or citrus could be beneficial. Picking a scented massage oil that is pleasing to your patient's senses is beneficial for the outcome of their massage too. After all, you want their massage to feel healing and nurturing to them.
For information regarding lotion ingredients visit: http://www.safecosmetics.org/get-the-facts/chemicals-of-concern/
You can also contact Seattle Massage Schools 

Succeeding in massage school requires more than just a passion for the field. Such an education program requires the learning of diverse hands-on techniques and the study of human anatomy, physiology, and otherwise. Through the fusion of both and professional development, you'll learn how to use specific techniques and theories to address individual needs. Enrolling in a massage school thus means cultivating your own therapeutic approach through such diverse training.Through this process, you will not only need a passion for relieving others' pain, but also some key supplies to start your career in this growing industry.
Tables & Tools
The foundation for any massage practice is a suitable table, chair, or mat, whether stationary or portable. Accessories help ensure client comfort, from body cushion systems to face cradle covers that add extra protection. Specialized tools will vary according to one's specialization in massage school and include the following.
A range of manual massage tools (T-Bars, Thumbsaver, etc) for specific purposes, from Trigger Points to pressure relief.
Massage Stones or Cryocups for hot and cold therapies.
Thumpers, which are manual or electric tools of eight massage spheres, that provide hand-held stimulation of pressure points.
Hot and cold packs, as well as electrical warming units, for specific therapies.
Exercisers or small balls for improving finger, hand, and forearm strength.
Bolsters, pillows, or wedges for joint support and client comfort.
Other potential tools include accessories for one's table, chair, or mat like cotton, fleece, or disposable sheets, covers, or padding, and towels and cleaning products.
Oils & Lotions
Many supplies are essential for the therapeutic side of massage school, especially in ensuring a relaxing sensory experience for clients. Understand these different therapeutic tools will help you determine which are necessary for your specialization.
Topical pain relievers, balms, and analgesics help relieve muscular or joint pain.
Essential oils come from plants, while blends combine fragrances for various purposes.
Natural herbs fulfill medicinal needs through infusion or distillation with oils.
Skin shields create invisible barriers to help address specific skin conditions.
Creams and lotions address friction and tension while soothing and moisturizing the skin.
Through various courses at massage school, you'll learn which of these diverse tools are best suited to your particular field and adapting to clients' specific needs therein.
Music & Media
Massage school will add various multimedia to your therapeutic toolbox, but you can start with several on hand. Music is the most obvious massage tool in its ability to ensure a soothing therapy experience, but instructional and other books and videos will be important parts of your resource library. Charts, too, will be essential in providing greater understanding of the human body and how massage provides relief. Anatomy, trigger point, and reflexology charts will be useful in massage school and beyond as you learn about and learn to explain pain and therapy, while posters, skeletons, and decoders will similarly support your practice. Lastly, developing concise and clear marketing media will be essential to your long-term professional development – from flyers for your business to business cards and your resume.
With the right tools, you can ensure that your time at massage school starts off right. As you learn various techniques, from pressure point stimulation to more elaborate Swedish massage, you'll expand the tools and wisdom at your disposal. Through the combination of theory, hands-on experience, and professional development, you'll learn to address individual therapeutic needs and understand how human bodies move, hurt, and heal. Gathering some of these essential tools to start will provide the strong foundation you will need for succeeding in massage school.
Click Here: For more information about supplies you might need during and after massage school
Seattle Massage School | Tacoma Massage School | Bellingham Massage School