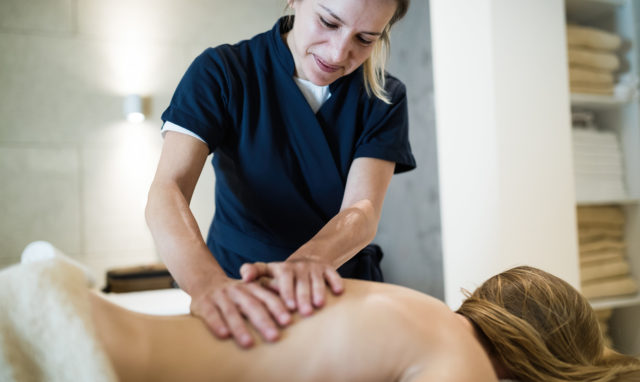 Massage Therapy Job Outlook – A career in massage therapy gives you the power to relieve pain and promote health while earning a good income. Nationally, the field is expected to continue growing at an accelerate rate through the year 2024.
For massage therapy Seattle and its tech-heavy culture make a perfect match. If you are thinking about a career in massage therapy Seattle is one of the best places in the country.
Washington State Requirements
Massage therapists are regulated by the Washington State Department of Health, Board of Massage. To maintain an active license, therapists must meet the following requirements.
Applicants must complete an approved training program that includes:
130 hours anatomy and physiology
40 hours kinesiology instruction
50 hours pathology
265 hours theory and practice, including technique
55 hours clinical and business practices
Red Cross first aid certification
CPR certification
4 hours HIV/AIDS discussion
Those who received training out-of-state or who are licensed in another location may not meet Washington state education requirements. To verify previous experience, a verification form must be completed by the jurisdiction or school where your credentials were gained.
All applicants must successfully complete the National Certification Board for Therapeutic Massage and Bodywork (NCBTMB) or Federation of State Massage Therapy Boards (FSMTB) examination.
After completing the training program and testing, therapists must submit all necessary paperwork to the Board of Massage, along with any applicable fees. Once your application information is verified, you will receive your Washington state massage therapy license.
Massage therapy licenses expire on the holder's birthday every year. They can be renewed up to 90 days in advance.
Every two years, practitioners must complete 24 hours of continuing education credits. These must include:
8+ hours direct massage skills training
4+ hours professional ethics, communication, or review of state laws and regulations
2 hours review of professional roles and boundaries
Massage Therapy Seattle Area Employment Outlook
For those practicing massage therapy Seattle has a variety of job opportunities in different industries.
Personal care services, such as in-home aid
Working with other health practitioners as part of a team
Amusement and recreation, such as spas and high-end hotels
Hospitals and long-term rehabilitation care
Massage Therapy Job Outlook for Washington is great in general. For a successful career in massage therapy Seattle is a great place to set up a freelance operation. For mobile massage therapy Seattle is the perfect place to create your own career by making office visits.
When it comes to pay for those practicing massage therapy Seattle is one of the best paying locations in the country. Seattle area therapists command an impressive hourly mean wage of $26.89, well above the national average of $19.17.
Washington has the 4th highest demand for massage therapists in the country. The state also consistently posts high employment rates for those in the field.
Massage therapy positions in Washington are expected to increase by 41.3% in the next 8 years. The demand for new massage talent will soon cause a shortage of qualified applicants. This could drive wages up in the future, making the area even more attractive for knowledgeable bodywork professionals.
When practicing massage therapy Seattle offers opportunity and variety. Enjoy a fulfilling and profitable career as a respected health professional. When it comes to massage therapy Seattle is the best place in the country to learn, practice, and live.
For questions relating to the Massage Therapy Job Outlook in Washington State contact our admission department today!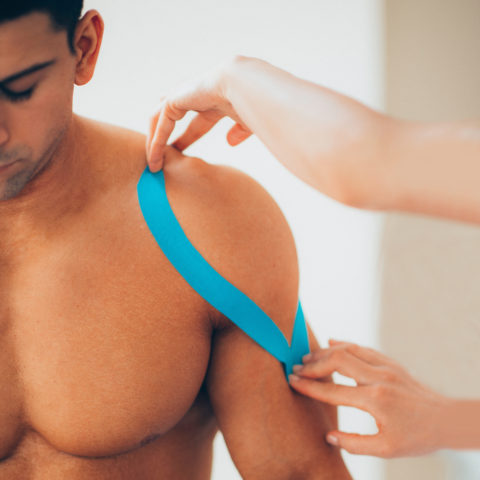 Since the 1970s, athletes have been using kinesiology taping to help them heal faster and build stronger muscles. Therapists have recently started using taping methods to bring those same benefits to their clients. Massage therapists can use taping to prolong relief and increase the body's natural ability to heal itself.
What is Kinesiology Taping?
Kinesiology studies the body, and how it uses each part to move. Using knowledge of physiology, biomechanics, and psychology, the kinesiologist seeks to improve strength and muscle condition.
Kinesiology tape is a thin, stretchy fabric that adheres to the skin with acrylic adhesives. The adhesive itself is mild on the skin but very strong. The tape is waterproof and can stay in place up to five days. Usually made of brightly colored cotton, it has the same thickness and elasticity of healthy skin. It is designed to not cause any pinching, binding, or restrictions.
When applied to the skin, the tape gently lifts surrounding skin, allowing for a better flow of interstitial and lymph fluids. These fluids help remove dead cells and other waste caused by injury or a hard workout. They also deliver vital nutrients that cells need to repair themselves.
Interstitial fluids are also responsible for facilitating intercellular communication. When muscles cells are able to easily send and receive the electrical impulses that stimulate muscle movement, coordination and flexibility are dramatically increased.
Benefits of Taping
When applied around problematic joints and muscles, taping increases the healing and pain relieving properties gained from other therapy methods.
Reduce painful inflammation by allowing the removal of cellular waste.
Reduce pressure on nerve endings by lifting the skin away from pain receptors.
Relax hypertonic muscles that make proper movement and posture impossible.
Revive dying or inhibited muscles by restoring needed nutrients and fluids.
Taping allows the body to repair cell damage caused by injury. This allows muscles to restore or improve strength and proper function.
Kinesiology tape is a useful addition in the treatment of many common disorders.
Sprained or strained muscles and ligaments
Bruising
Joint realignment and instability
Rounded shoulders or spine
Recently healed fractures
Tendonitis
Arthritis
Fibromyalgia
Taping and Massage Therapy
Patients with chronic conditions benefit most from a combination of massage therapy and taping. When tape is applied after massage:
Muscles that have been stretched and warmed by massage will stay loose longer.
The body can remove lactic acid more easily, which decreases soreness after deep tissue techniques.
Softens scar tissue and fascial adhesions so future sessions can be more productive.
The natural pain relieving ability of massage will last longer.
Added stability will keep muscles from moving out of alignment.
Tape can be safely applied to any body part. Different application methods encourage pain relief, structural support, and other therapeutic goals.
Kinesiology taping is an effective addition to any physical therapy routine. It can be used to treat a variety of musculoskeletal disorders and injuries in a noninvasive manner. When therapists add taping as a final touch to their therapy process, clients increase healing, flexibility, and muscles strength while reducing pain, swelling, and possible injury.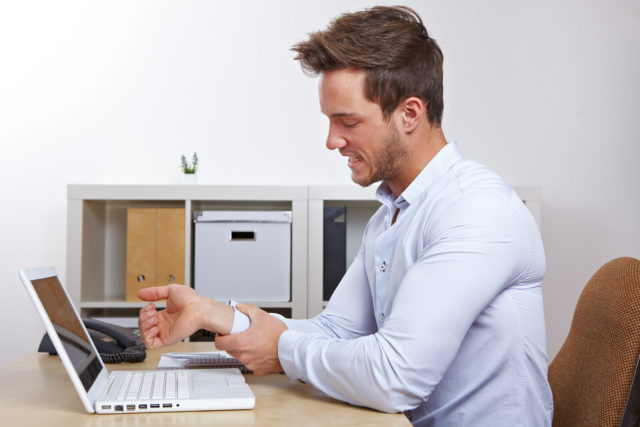 In our fast-paced, technology-addicted world, Carpal Tunnel Syndrome is a common complaint. The stiff muscles and shooting pain sufferers experience can have a significantly negative impact on daily life. As a professional therapist or bodyworker, it's likely you will work with a client who has Carpal Tunnel Syndrome. Understanding this increasingly common condition will allow you to help your clients achieve maximum relief.
What is Carpal Tunnel Syndrome?
Carpal Tunnel Syndrome occurs when pressure is exerted on the median nerve that runs through the arm and wrist. This nerve controls motion and feeling in all digits except the little finger. When the nerve reaches the wrist, it runs through a narrow structure of bone and ligament called the carpal tunnel. Constant pressure on the nerve causes it to press against the bony parts of the structure. If left untreated, the nerve will sustain damage that can cause a variety of symptoms.
Numbness
Loss of muscle strength
Tingling
Pain in fingers, hand, or forearm
Many sufferers first notice their symptoms at night.
Getting a Diagnosis
As always, patients should seek an official diagnosis from their primary medical physician. The doctor will start with a medical history. People with arthritis, hypothyroidism, and diabetes are at higher risk of developing the condition. The doctor will ask about recent injuries or accidents affecting the head, shoulders, arms, or hands. They will also examine your daily routine. Those with jobs that require small, repetitive movements of the hands and wrists have a greater chance of their symptoms being caused by Carpal Tunnel Syndrome.
The doctor then performs a physical examination. They will check muscle strength, sensation (the ability to feel), and the general appearance of the head, neck, shoulders, arms, wrists, and hands. Some specialists may order blood or nerve tests to verify results.
Traditional Treatment Methods
Depending on the severity of symptoms, conventional treatment options for Carpal Tunnel Syndrome vary. Milder symptoms can often be treated effectively at home.
Stop any activities that may be causing symptoms. If that is not possible, try to rest your wrists and hands often.
Place an ice pack on wrists for 10-15 minutes at a time up to 2 times per hour to reduce discomfort.
N-SAIDs, like Ibuprofen or Naproxen Sodium, reduce painful swelling.
Wearing a wrist splint while sleeping can lessen pressure on the median nerve.
If symptoms are allowed to progress, more severe interventions may be necessary. Powerful anti-inflammatory medications, called corticosteroids, can be prescribed in pill form or injected directly into the wrist. While these medications can significantly reduce pain associated with Carpal Tunnel Syndrome, they do not provide permanent relief. Surgery is an option for the most advanced cases.
Other Self-Treatment Options
There are some simple steps everyone can take to decrease the intensity of symptoms and frequency of attacks caused by Carpal Tunnel Syndrome.
Get treated for contributing conditions.
Maintain a healthy weight.
Quit smoking.
Exercise regularly.
In addition to lifestyle changes, sufferers should take measures to protect their wrists and hands.
Keep wrists elevated when using a keyboard.
Keep shoulders relaxed and at the sides while typing or working.
Use the whole hand to grip items rather than just fingers.
Switch hands during repetitive motions.
Massage Therapy for Natural Pain Relief
Certain massage techniques have been proven to relax tight muscles and fascia in the arm and shoulder and reduce pressure on the median nerve. For clients with Carpal Tunnel Syndrome, a muscle specific massage will help address holding patterns associated with repetitive use while also increasing blood flow to the affected region. Leaving your client feeling loose, refreshed, and hopefully pain-free.
Contact us today to learn more about how massage therapy can be an effective treatment for carpal tunnel syndrome.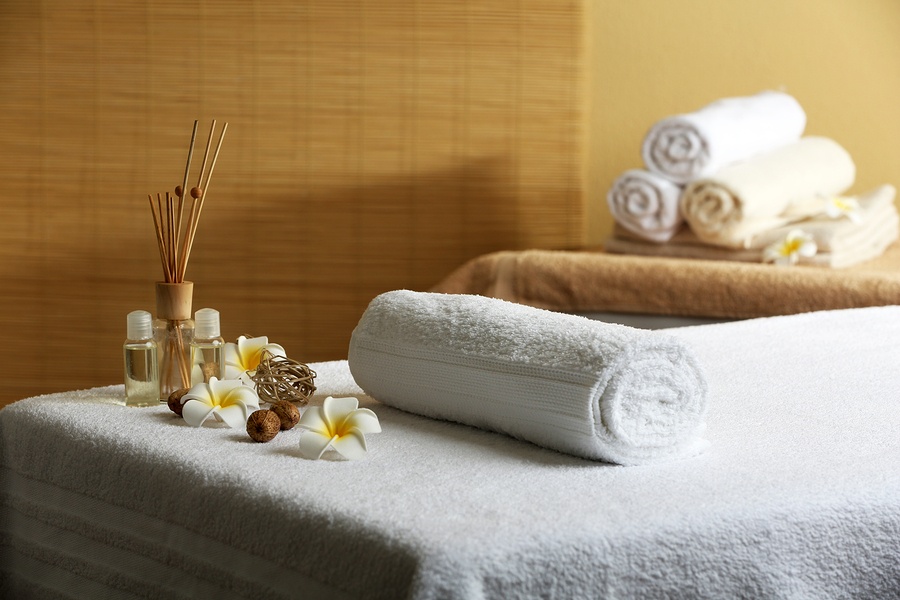 Just as the human body has a very specific anatomy that only varies slightly from individual body to the next, so does a massage session. If you are going to become a massage therapist, you might be wondering what the various necessary components are to most standard massage sessions.
Introduction / Meet & Greet: When your client first walks into your massage environment, you want to present a positive and happy attitude to assist in guiding their energy towards a relaxed and uplifted place.
Paperwork / Check-In: In most cases, you're going to want to have your customer fill out a basic worksheet detailing any known medical issues, seeking to learn about the specific pain or discomfort they are experiencing. In this phase, be sure to find out if your client has received professional massage treatment previously and if so, what the frequency of that treatment has been.
Hand-off / Room Entry: If you are in a larger facility, someone else might be doing the registration process and will then hand off the client to you as the massage therapist. In the case where you are operating a freelance practice or where you are the only person in the studio at the time, you'll be greeting and welcoming the client to their room.
Environment Test: While indicating to the customer that it is your goal to make the environment perfect for them, use your own professional guidance to make educated assessments about the state of the studio. Is it drafty? Is it too hot or is the air stagnant? Many environmental issues can be fixed with only minor modifications.
Manipulate Environment: Make any logical modifications to the massage environment to ensure it is as comfortable to the client as possible.
Ask Questions: Some clients will appreciate some quiet music or some ambient sounds, while others will want near-complete silence. Ask the client questions about the environment and then depending on the answers, try to give the customer the environment that they request.
Reiterate Details: Take a moment to repeat the details you've received from your client and make sure you didn't misunderstand anything. By letting the client know they were heard correctly, you prepare them for even greater peace of mind. Make sure you've asked them about their trouble areas and what level of pressure they prefer.
Check Readiness: The final step to ensuring you are entirely on the same page with your client, and once they are fully situated on the massage table ask them if they are prepared to begin. It might seem like a trivial step, but it shows respect and also helps to bring the energy to a relaxed and comfortable place.
Massage Phase: depending on the type of massage service discussed and desired, begin to give that treatment. While massaging your client, try asking a few questions about the pressure and various other environmental elements to make sure you haven't gone astray of the client's wishes.
Resolve: After the massage, you'll want to offer your client a glass or bottle of water and some time to get back in order. Leave the massage area and allow them time to put clothing back on and come back to a fully alert state.
Payment collection was not specifically added to this walk-through, due to the fact that it can be inserted in the beginning or the end of the treatment, as preferred by the studio or establishment offering the service. Obviously, this guide is not going to be universally applicable to every single massage studio or institution, but it is a great start.
For additional information about what to expect during a massage session please contact our massage school clinic.