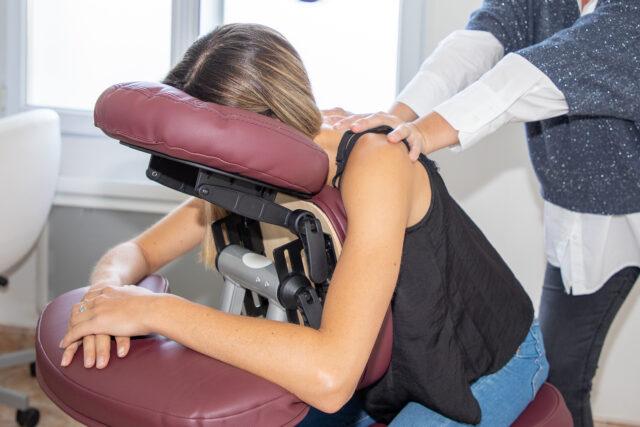 In today's fast-paced work environments, employee well-being has become a top priority for organizations aiming to create a positive and productive workplace culture. One increasingly popular method to promote workplace wellness is through massage therapy. In this blog post, we will explore how incorporating massage into the workplace can lead to happier, healthier, and more engaged employees.
The Impact of Workplace Stress: Workplace stress is a pervasive issue that can negatively affect employees' mental and physical well-being. High stress levels lead to decreased productivity, increased absenteeism, and a higher risk of burnout. By offering massage as a workplace wellness program, employers can provide employees with a valuable stress management tool.
Benefits of Workplace Massage: a. Stress Reduction: Massage helps to alleviate stress by reducing cortisol levels and promoting the release of endorphins, the body's natural feel-good hormones. Regular massage sessions can help employees manage stress more effectively and maintain a sense of calm and balance throughout the workday. b. Pain Relief: Many employees suffer from musculoskeletal issues and chronic pain due to prolonged sitting, repetitive tasks, or poor posture. Massage therapy can target these specific areas, relieving tension, improving circulation, and reducing pain. c. Improved Focus and Mental Clarity: Massage promotes relaxation and mental clarity, which can enhance cognitive function and concentration. Employees who receive regular massages are more likely to stay focused, make better decisions, and perform at their best. d. Enhanced Mood and Morale: Massage triggers the release of serotonin and dopamine, neurotransmitters associated with happiness and positive mood. By incorporating massage into the workplace, employers can create an atmosphere of well-being, boosting employee morale and job satisfaction.
Different Approaches to Workplace Massage: a. On-Site Chair Massage: Chair massage is a convenient and efficient option for the workplace. It involves a brief, seated massage that focuses on the neck, shoulders, back, arms, and hands. On-site chair massage sessions typically last between 10 to 30 minutes and can be scheduled during breaks or as part of wellness events. b. Wellness Rooms: Creating dedicated wellness rooms within the workplace provides employees with a quiet, comfortable space where they can receive longer massage sessions or engage in relaxation exercises. These rooms can be equipped with massage tables, relaxing music, and essential oils to enhance the overall experience. c. Wellness Programs and Subsidies: Employers can partner with local massage therapists or wellness centers to offer discounted or subsidized massage sessions for employees. By providing financial incentives or flexible schedules to accommodate massage appointments, employers demonstrate their commitment to employee well-being.
Implementing a Workplace Massage Program: a. Management Buy-In: To successfully introduce a workplace massage program, it's crucial to obtain support from management and stakeholders. Highlight the potential benefits, present case studies, and emphasize the positive impact on employee satisfaction, retention, and productivity. b. Partnering with Professionals: Collaborate with licensed and experienced massage therapists or wellness providers who specialize in workplace programs. Ensure they understand the unique needs of office environments and are capable of delivering quality services. c. Communication and Promotion: Proper communication is key to the success of any workplace wellness initiative. Use various channels, such as emails, newsletters, posters, and intranet platforms, to inform employees about the availability and benefits of the massage program. Highlight success stories and encourage employee feedback to create a buzz and generate interest. d. Evaluation and Feedback: Continuously evaluate the effectiveness of the program through employee surveys, feedback sessions, and productivity metrics. Adjust the program as needed based on employee preferences and needs.
Massage therapy is a powerful tool for promoting workplace wellness and improving employee satisfaction and productivity. By addressing stress, reducing pain, enhancing focus, and boosting morale, workplace massage programs have the potential to transform the work environment into a healthier, happier, and more efficient space. Employers who invest in the well-being of their employees through massage initiatives demonstrate their commitment to fostering a positive work culture. By incorporating massage into the workplace, organizations can unlock the full potential of their workforce and reap the long-term benefits of a more engaged and productive team.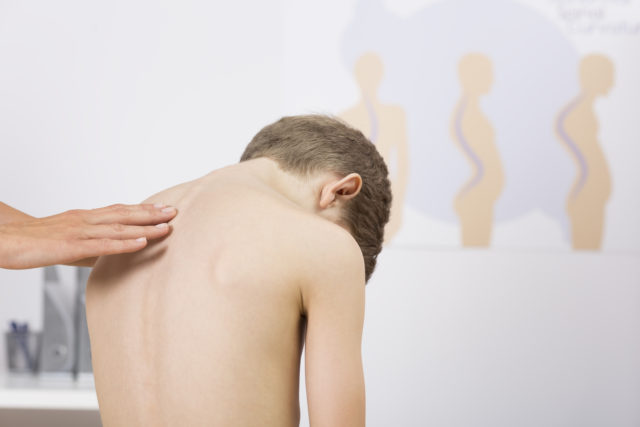 Scoliosis is a condition that millions of Americans are familiar with. You may have already worked with patients who suffer from pain, discomfort, and stiffness due to scoliosis. This condition is particularly detrimental to children, who may struggle with weak muscles, back pain, and fatigue from long periods of standing upright.
Luckily, massage therapy can be used to help treat scoliosis in children. A pediatric massage involves manipulating soft tissues with the aim of relieving tension and improving blood flow to affected regions. When done correctly, the symptoms of scoliosis in children can be significantly reduced.
Understanding Scoliosis in children
Scoliosis is a condition where the spinal cord curvature is increased more than usual. The spine typically has a mild curve as it runs across your back. However, patients with scoliosis have a spinal cord that resembles a C or an S shape.
Congenital scoliosis (in children) typically occurs during birth and affects children as they continue to grow. The severity of this condition will vary from one patient to another. Some spinal curvatures are barely noticeable, while others can even cause a deformity in the spine.
Some risk factors of scoliosis include birth defects, infections, cerebral palsy, or genetic disorders such as Down Syndrome. Adding pediatric massage therapy skills to your current knowledge base will help you provide adequate relief to scoliosis patients.
Symptoms of Scoliosis
Scoliosis in children manifests itself in many different ways. It can begin to develop in the womb due to the incorrect division of vertebrae, or vertebrae that don't fully grow during early stages. Diagnosis may be done soon after birth- or even later on when the child is 10-15 years old.
Some of the most common symptoms include:
Chronic back pain
An incorrectly tilted spine and pelvis
Fatigue from standing upright
Uneven shoulders
Benefits of Massage therapy
Pediatric massage therapy is a useful technique that can treat scoliosis in children. For example, effleurage massage techniques target the soft tissues and warm them up for adjustment. Through repeated strokes along the length of a child's spinal cord, the muscles can relax and ease pain, stiffness, or tension.
Massage therapy also uses a combination of lubricants to soften the muscles and increase blood circulation to affected areas. Children with scoliosis can enjoy significant relief from symptoms and live a healthy life with timely massage therapy sessions.
Massage therapy techniques you can learn in massage school
If you wish to advance your knowledge and skills in massage therapy for scoliosis, attending massage school is an excellent way to get started. With these advanced skills under your belt, you'll be able to provide timely pediatric massage therapy to children who've been affected by this condition.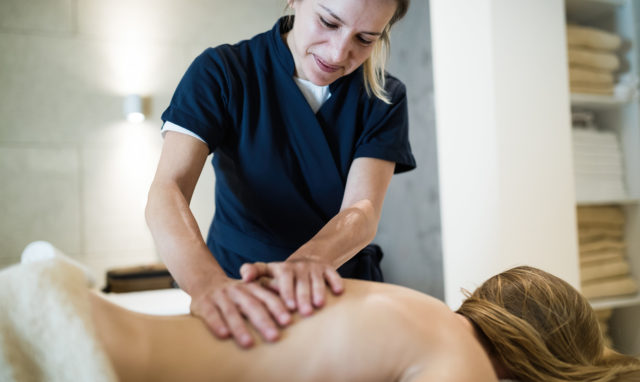 Massage Therapy Job Outlook – A career in massage therapy gives you the power to relieve pain and promote health while earning a good income. Nationally, the field is expected to continue growing at an accelerate rate through the year 2024.
For massage therapy Seattle and its tech-heavy culture make a perfect match. If you are thinking about a career in massage therapy Seattle is one of the best places in the country.
Washington State Requirements
Massage therapists are regulated by the Washington State Department of Health, Board of Massage. To maintain an active license, therapists must meet the following requirements.
Applicants must complete an approved training program that includes:
130 hours anatomy and physiology
40 hours kinesiology instruction
50 hours pathology
265 hours theory and practice, including technique
55 hours clinical and business practices
Red Cross first aid certification
CPR certification
4 hours HIV/AIDS discussion
Those who received training out-of-state or who are licensed in another location may not meet Washington state education requirements. To verify previous experience, a verification form must be completed by the jurisdiction or school where your credentials were gained.
All applicants must successfully complete the National Certification Board for Therapeutic Massage and Bodywork (NCBTMB) or Federation of State Massage Therapy Boards (FSMTB) examination.
After completing the training program and testing, therapists must submit all necessary paperwork to the Board of Massage, along with any applicable fees. Once your application information is verified, you will receive your Washington state massage therapy license.
Massage therapy licenses expire on the holder's birthday every year. They can be renewed up to 90 days in advance.
Every two years, practitioners must complete 24 hours of continuing education credits. These must include:
8+ hours direct massage skills training
4+ hours professional ethics, communication, or review of state laws and regulations
2 hours review of professional roles and boundaries
Massage Therapy Seattle Area Employment Outlook
For those practicing massage therapy Seattle has a variety of job opportunities in different industries.
Personal care services, such as in-home aid
Working with other health practitioners as part of a team
Amusement and recreation, such as spas and high-end hotels
Hospitals and long-term rehabilitation care
Massage Therapy Job Outlook for Washington is great in general. For a successful career in massage therapy Seattle is a great place to set up a freelance operation. For mobile massage therapy Seattle is the perfect place to create your own career by making office visits.
When it comes to pay for those practicing massage therapy Seattle is one of the best paying locations in the country. Seattle area therapists command an impressive hourly mean wage of $26.89, well above the national average of $19.17.
Washington has the 4th highest demand for massage therapists in the country. The state also consistently posts high employment rates for those in the field.
Massage therapy positions in Washington are expected to increase by 41.3% in the next 8 years. The demand for new massage talent will soon cause a shortage of qualified applicants. This could drive wages up in the future, making the area even more attractive for knowledgeable bodywork professionals.
When practicing massage therapy Seattle offers opportunity and variety. Enjoy a fulfilling and profitable career as a respected health professional. When it comes to massage therapy Seattle is the best place in the country to learn, practice, and live.
For questions relating to the Massage Therapy Job Outlook in Washington State contact our admission department today!