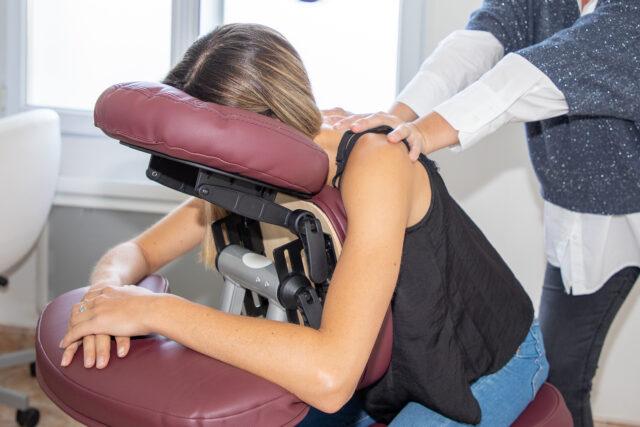 In today's fast-paced work environments, employee well-being has become a top priority for organizations aiming to create a positive and productive workplace culture. One increasingly popular method to promote workplace wellness is through massage therapy. In this blog post, we will explore how incorporating massage into the workplace can lead to happier, healthier, and more engaged employees.
The Impact of Workplace Stress: Workplace stress is a pervasive issue that can negatively affect employees' mental and physical well-being. High stress levels lead to decreased productivity, increased absenteeism, and a higher risk of burnout. By offering massage as a workplace wellness program, employers can provide employees with a valuable stress management tool.
Benefits of Workplace Massage: a. Stress Reduction: Massage helps to alleviate stress by reducing cortisol levels and promoting the release of endorphins, the body's natural feel-good hormones. Regular massage sessions can help employees manage stress more effectively and maintain a sense of calm and balance throughout the workday. b. Pain Relief: Many employees suffer from musculoskeletal issues and chronic pain due to prolonged sitting, repetitive tasks, or poor posture. Massage therapy can target these specific areas, relieving tension, improving circulation, and reducing pain. c. Improved Focus and Mental Clarity: Massage promotes relaxation and mental clarity, which can enhance cognitive function and concentration. Employees who receive regular massages are more likely to stay focused, make better decisions, and perform at their best. d. Enhanced Mood and Morale: Massage triggers the release of serotonin and dopamine, neurotransmitters associated with happiness and positive mood. By incorporating massage into the workplace, employers can create an atmosphere of well-being, boosting employee morale and job satisfaction.
Different Approaches to Workplace Massage: a. On-Site Chair Massage: Chair massage is a convenient and efficient option for the workplace. It involves a brief, seated massage that focuses on the neck, shoulders, back, arms, and hands. On-site chair massage sessions typically last between 10 to 30 minutes and can be scheduled during breaks or as part of wellness events. b. Wellness Rooms: Creating dedicated wellness rooms within the workplace provides employees with a quiet, comfortable space where they can receive longer massage sessions or engage in relaxation exercises. These rooms can be equipped with massage tables, relaxing music, and essential oils to enhance the overall experience. c. Wellness Programs and Subsidies: Employers can partner with local massage therapists or wellness centers to offer discounted or subsidized massage sessions for employees. By providing financial incentives or flexible schedules to accommodate massage appointments, employers demonstrate their commitment to employee well-being.
Implementing a Workplace Massage Program: a. Management Buy-In: To successfully introduce a workplace massage program, it's crucial to obtain support from management and stakeholders. Highlight the potential benefits, present case studies, and emphasize the positive impact on employee satisfaction, retention, and productivity. b. Partnering with Professionals: Collaborate with licensed and experienced massage therapists or wellness providers who specialize in workplace programs. Ensure they understand the unique needs of office environments and are capable of delivering quality services. c. Communication and Promotion: Proper communication is key to the success of any workplace wellness initiative. Use various channels, such as emails, newsletters, posters, and intranet platforms, to inform employees about the availability and benefits of the massage program. Highlight success stories and encourage employee feedback to create a buzz and generate interest. d. Evaluation and Feedback: Continuously evaluate the effectiveness of the program through employee surveys, feedback sessions, and productivity metrics. Adjust the program as needed based on employee preferences and needs.
Massage therapy is a powerful tool for promoting workplace wellness and improving employee satisfaction and productivity. By addressing stress, reducing pain, enhancing focus, and boosting morale, workplace massage programs have the potential to transform the work environment into a healthier, happier, and more efficient space. Employers who invest in the well-being of their employees through massage initiatives demonstrate their commitment to fostering a positive work culture. By incorporating massage into the workplace, organizations can unlock the full potential of their workforce and reap the long-term benefits of a more engaged and productive team.