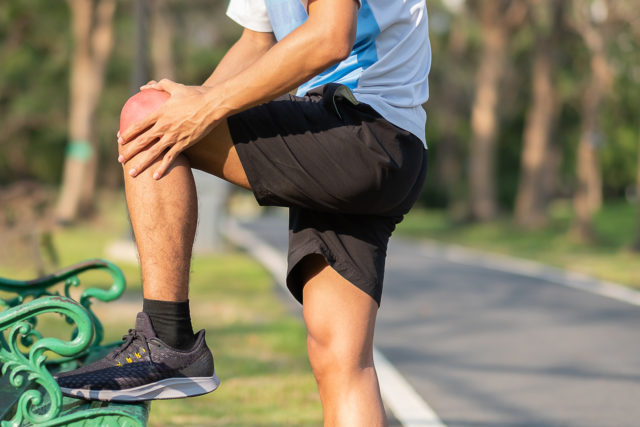 An Anterior Cruciate Ligament (ACL) tear is an injury impacting major ligaments in the knee. It is a key concern for many sports enthusiasts because such ACL tears occur mostly during sports activities that involve jumping, landing, sudden stops, or changes in direction.
Examples of such sports include football, basketball, soccer, or downhill skiing. Also, these ruptures are more common in women than in men because of the difference in anatomy.
Once you sustain an ACL injury, you might require surgery, but that depends on factors like your activity level and severity of damage. With advancements in the field of reconstruction surgery, athletes can benefit from hamstring grafts, patellar tendon graft along with allografts. These prove effective in restoring both function and strength to the injured knee.
Even so, the ability of an athlete to go back to an active lifestyle successfully/full recovery after ACL reconstruction depends on the absence of three prevalent complications.
Quadriceps weakness
Flexion contracture (of the muscle group)
Patellofemoral pain syndrome (PFPS)
Many physicians will use the patellofemoral pain syndrome as a "catch-all" diagnosis for the myriad of symptoms associated with anterior knee pain, especially after ACL reconstruction.
Signs and Symptoms of Anterior Cruciate Ligament Rupture
Once you sustain the injury, you will hear a popping sound from your knee. Other common symptoms include:
Pain and swelling
Loss of full range motion
Discomfort when walking
Joint tenderness
Inability to bear leg weight even with minimal pain
Feeling of instability
Causes
Several movements can cause an anterior cruciate ligament tear. These include:
Slowing down during a run
Incorrectly landing from a jump
Rapidly changing direction
Stopping suddenly
Direct contact or collision like during a tackle
When a knee is twisted or bent backward
While sport accidents are the most common causes of ACL injuries, you can sustain an ACL tear from missing a step in a staircase, falling off a ladder, or being in a car accident.
Risk factors
There are several risk factors for an ACL injury, and they include:
Gender
Active involvement in sports like football, gymnastics, basketball, soccer, and downhill skiing
Using defective sport equipment like ski bindings
Wearing ill-fitting sportswear
Having a history of an ACL tear
Outcome and treatment
When you experience an ACL injury, you might not be able to walk correctly. An ACL injury causes a partial or complete tear of tissue and is usually very painful. Once you visit a doctor, they will recommend treatment based on the severity of the injury. Treatment options include first aid, medications, physical therapy, or surgery.
Massage Therapy for Anterior Cruciate Ligament Tear
One aspect of physical therapy for ACL is massage. Therapeutic massage therapy has the following benefits:
Reduce pain and swelling (inflammation)
Increase blood circulation and joint mobility
Accelerate the healing process
Lower the aggregation of scar tissue forming around the site of the injury
During a therapeutic massage, therapists target surrounding muscles, joints, or other specific structures to reduce strain. And once you've achieved success in ensuring they're relaxed, a physician can then start restoring them to their proper alignment and flexibility.
Massage therapy is considered a safe and effective complementary treatment for many muscle and joint problems—including ACL. The type of massage and the number of sessions you will require will depend on your injury. At the end of all of your sessions, you will have regained full range of motion without any pain.
While massage therapy is effective in treating ACL, it must be done correctly for maximum results. Ensure you get your massage therapy from a professional therapist. If you would like to learn more about massage therapy or attend massage school, call us today. Also contact the Northwest Academy admissions department for any massage related questions.