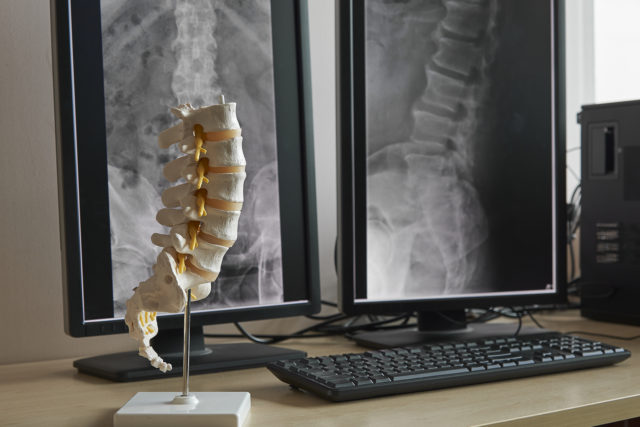 Degenerative disc disease (DDD) is a medical condition where one or more discs in the back lose strength. Despite the name, degenerative disc disease isn't technically a disease but a progressive condition that worsens over time due to wear and tear, or injury.
The discs in your back are situated in between the vertebrae of the spine and act as cushions and shock absorbers. They help you stand up straight and move through everyday motions, such as bending over or twisting around. As people age, DDD can worsen and cause mild to extreme pain that can interfere with your everyday activities.
Symptoms of Degenerative Disc Disease
Some of the most common symptoms of degenerative disc disease include pain that:
Primarily affects the lower back
Could extend to legs and buttocks
Stretches from neck to arms
Can be worse from sitting
Worsens after bending or twisting
Comes and goes in a few days or extends to several months
People with DDD might exhibit less pain after walking or exercise. Additionally, DDD can cause weakened leg muscles and numbness in your arms or legs.
Causes of Degenerative Disc Disease
DDD is primarily caused by natural wear and tear of spinal discs. Over time, discs tend to dry out and lose their support and function, leading to pain and other symptoms. DDD can start developing in your 30s or 40s and progressively worsen as you age. However, the condition can also be caused by overuse from sports or repetitive activities, or injury. Once a disc is damaged, it can't repair itself.
Risk Factors
Age is the major risk factor for degenerative disc disease. The discs in between the vertebrae often shrink down and lose their cushiony support as people age. Almost every adult above the age of 60 has some form of disc degeneration. However, not all cases cause pain.
Long-term repetitive activities that place a lot of pressure on certain discs can also increase your risk. Other risk factors include car accidents, overweight or obesity, and a sedentary lifestyle.
Diagnosis of DDD
An MRI can help detect degenerative disc disease. Your doctor may recommend this type of imaging test based on a physical exam or an investigation into your symptoms and health history. Imaging tests can reveal damaged discs and help rule out other triggers of pain. When you receive a diagnosis of DDD, it does not mean that you're disabled or headed for a downward spiral of spinal degeneration. In fact, DDD is often a part of the natural aging process that we all go through at some point in life. And the good news is that you can mitigate the associated pain through a variety of treatment solutions, including massage therapy.
Massage Therapy Treatment for DDD
From a Massage Therapy point of view, the approach in treating DDD is to strike a balance between reducing muscle tension and enhancing traction (decompressing the targeted vertebral segments). Finding a "green zone" of treatment is critical since the spasms that occur through the neck or low back happen because the body is trying to protect that area. By applying slow, repetitive, methodical massage between soft tissue and joint mobilization (spinal decompression), massage therapy can help relieve pain and allow you to move easier and execute strengthening exercises efficiently.
Massage therapy generally helps in these three ways:
Increasing Blood Flow and Circulation: Proper blood circulation ensures that critical nutrients flow back fully to the strained muscles and tissues. This makes the muscles/tissues stronger, helping relieve the strain coming from the degenerating discs.
Decreasing Tension: The muscles can become tense as they struggle to compensate for the weakening discs. When these muscles are manipulated during the massage, they become relaxed, which improves the range of motion and flexibility.
Increasing the "feel good" chemical: Massage therapy releases Endorphins, a mood-enhancing chemical that is released in the brain. This "feel good" chemical helps in reducing pain and enhancing recovery.
Prognosis Possibilities
Without treatment or therapy, DDD can gradually progress and cause more adverse symptoms. While surgery is a treatment option, other less invasive treatments such as massage therapy have been found to be just as helpful yet less costly. A clinical study involving a 66-year-old female patient with cervical degenerative disc disease in her lateral left facet joint recorded impressive outcomes. The patient was experiencing symptoms of severe neck pain accompanied by restricted cervical range of motion. She also exhibited radicular left shoulder and arm pain. The objective of the study was to determine the effect of therapeutic massage on the patient's symptoms and impairments of cervical DDD.
After multiple treatment sessions, the patient's symptoms had decreased and cervical ROM had moderately improved. There was also a reduction in reported pain and an improvement in functional daily activities. This is an indication that massage therapy is a favorable treatment intervention for DDD symptoms.
Bottom Line
Massage can help improve the symptoms associated with Degenerative Disc Disease for a prolonged duration of time as long as you continue to follow the maintenance schedule that your Massage Therapist lays out. Massage therapy typically reduces muscle strain, improves flexibility, and mitigates pain. However, you can achieve the best results by working in conjunction with other health care professionals. Keep open communication between your doctor and your massage therapist to ensure the best treatment.
To learn about becoming a massage therapist in Seattle contact one of the following local massage schools; Northwest Academy for the Healing Arts or Seattle Clinical Massage School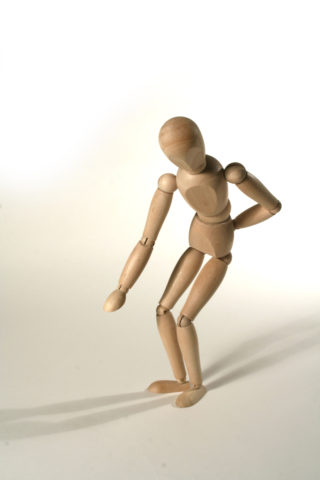 Low back pain is experience by over 80% of Americans during their lifetime. It is one of the most common complaints medical professionals hear. You've probably had clients complain about a stiff, achy lower back. Therapeutic massage and any other types of bodywork can relax stressed muscles and temporarily relieve pain from acute attacks. But if your client has chronic low back pain issues, they may need more structured interventions. Offer these tips to help your clients achieve a strong, flexible and injury-free back.
Causes and Impact
Low back pain can result from many causes.
Injury
Improper posture
Sedentary lifestyle
Strained ligaments
Medical conditions like disk disease, osteoporosis, cancer, and some infections
Regardless of the cause, the impact on daily life can be immense. Stiff, achy muscles and swollen ligaments make it difficult to perform normal activities. Persistent pain can lead to lost work hours and a lower overall quality of life.
Get Moving
When the pain is at its worst, your client will be looking for fast relief. After therapeutic massages, exercise is the single best solution to muscle pain and tightness.
Sitting or standing in one position for too long cause tension and pressure that can add up over time. Encourage sedentary clients to get up and exercise. Aerobic activity triggers the release of endorphins. These chemicals reduce your perception of pain, and acts a mild muscle relaxant.
Regular exercise strengthens weak muscles, which reduces strain on the lower back. Suggest some simple exercises to strengthen your client's core muscles.
In addition to aerobic and strengthening exercises, advise your client to include stretches to increase flexibility in tight, knotted areas.
Correct Posture
Talk to your client about using good posture throughout their day.
Educate your client on the benefits of ergonomically correct workstations and lumbar supports. Maintaining a healthy curve in the spine reduces stress on ligaments, discs, and joints.
If you do not offer chiropractic services, refer your client to a trusted colleague. Periodic spinal adjustments, in conjunction with therapeutic massage and exercise, will correct misalignments that cause lower back pain.
Relax and Heal
After your massage session, suggest some self-care procedures your client can do at home to help them relax overworked muscles and let their bodies heal.
Alternate ice and heat. Heat increases the flow of warm, nourishing blood to speed healing. Ice calms irritated nerve endings and decreases painful swelling.
Talk to your client about sleeping positions. Lying on the side with a pillow between the knees reduces strain on the lower back and hips. Those who prefer to sleep on their backs should place a pillow under their knees. Sleeping on the stomach should be avoided.
Some lower back pain has been linked to mental or emotional stress. Suggest balancing activities that soothe mind and body, like yoga, meditation, or deep breathing exercises.
Talk to your client about their pain. Take a few minutes to help them make a personalized plan, tailored to their current level of physical ability, pain tolerance, and commitment.
Low back pain doesn't have to take over your client's life. With the right combination of self-care and professional treatment, you can help your clients achieve a strong, flexible, and healthy spine.
Learn more today about how you can help people with low back pain with a career in massage therapy