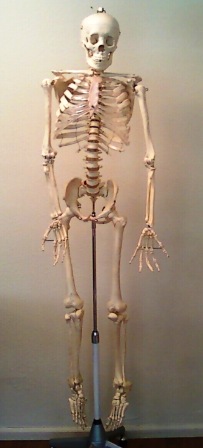 Thinking massage therapy is the next career move for you? Well get ready to experience a unique program at Northwest Academy for the Healing Arts that teaches valuable skills you'll use for the rest of your life.
1. Ever wonder how the leg bone is connected to the knee bone, the knee bone is connected to the thigh bone & the thigh bone is connected to the hip bone? Our Anatomy & Physiology instructors keep you on the edge of your seat as you explore the wonders of the human body. So put on your thinking caps and come with an open mind because you'll learn more fascinating things about the human body you never knew were possible!
2. It takes a village to pass a test. Seriously, to be successful in school, you'll need a small collection of classmates, family, friends rooting for you all the way. Invest in some good highlighters and a sturdy notebook because you'll be taking scores of information down in and out of class. The more people you have to study with and help support you while you stay up past your bed time, the more confident you'll be at passing your tests.
3. Dig deep! What was the name of that person you ran into at the grocery store who said they had a friend who needed a massage therapist? Don't remember? We will introduce you to the art of networking and marketing yourself. Most therapists will tell you the best way to build a practice are referrals. In fact, you could build your entire practice on referrals if you're smart about it. Our business course prepares you with not only business cards, but an entire business plan for your future massage practice!
4. Leave your dirt at the door. Good massages depend on good energy from the therapist. During school you'll learn to leave any unnecessary stress behind, allowing you to provide the best possible treatment for your client. After all, the last thing your client wants to hear about while they're trying to de-stress is your stress.
5. Just keep swimming! Famously stated by Dori in the movie Finding Nemo, this expression exhibits the final lesson of massage therapy school: Never Give Up. Clients will come and go, jobs will change, life will be a little challenging at times, but keeping steady in your desire to grow a successful business will surpass all that. So no matter what gets thrown your way, know that your ability to alleviate someone else's pain is a unique gift.
For more information about our massage therapy programs visit our website at www.nw-academy.com.
Alexa Severtsen, LMP – Director of Admissions
Northwest Academy for the Healing Arts
Seattle, Washington