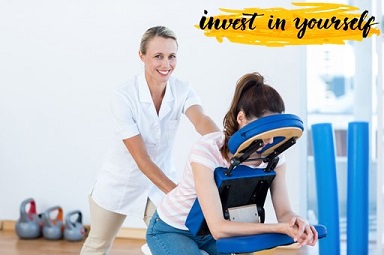 Becoming a massage therapist is a wonderful career path to follow. It is a skill you can carry with you anywhere you go. Here are 8 reasons why attending massage school is worth the financial investment.
It's a skill you can take with you anywhere you go. Though you may have to update your license depending on where life takes you, you will always be able to take this skill with you on the road. You can work for a massage franchise company, start your own practice or go on the road with a professional athletic team. You can even work with a cruise line and see the world.
People love massage. Massage is often seen as a luxury, but more and more people are realizing the many health benefits that come with massage. From helping with insomnia, relieving stress and preventing and treating injuries, massage has become a perfect tool for helping people live healthier lives.
You learn more about yourself. Massage isn't just for helping others, it can help you learn more about yourself. Like how you handle stressful situations and what your boundaries are.
Massage school is a great stepping stone. If you are just graduating high school or looking to transition careers, massage school is a great stepping stone for that. It pays more than your regular retail job making it ideal for a student needing to make their way to college.
Set your own schedule. Once you graduate, setting your own schedule is fairly simple. Most massage clinics are open seven days a week. If you open your own practice, your schedule is up to you.
Flexibility. Most massage schools have several programs to choose from. You can attend part-time or full time. You can also pick between daytime classes, evening or weekend.
Endless opportunity to further improve yourself. Once you have your license, you have to keep it up to date and attend continuing education courses which means you get to learn more! There are always fascinating topics to pick from including aromatherapy, prenatal and infant massage as well as sports massage therapy. There are even courses in equine and canine massage!
You can help others. Going to massage school will lead you to a path to become or enhance your nurturing skills. It's a great way to help others live healthier lives.
What are you waiting for?
Click here: For more information bout our Massage School Programs
Click on your massage school of interest below:
Seattle Masage School | Tacoma Massage School | Bellingham Massage School