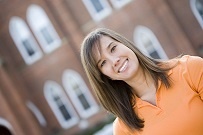 The choice to invest in your future by attending massage school is both smart and realistic. The massage therapy industry is thriving and massage schools are popping up seemingly overnight. Student loan providers are essentially tripping over each other to fund dedicated students, offer them special rates and repayment plans. Add to these ideal conditions a favorable job outlook for massage therapists and you have every reason to finally pull the trigger on this dream career.
Why Pay for Massage School with a Student Loan?
Paying for higher education can often be more stressful than the coursework. This rings especially true for massage school, which many students tend to enjoy. Student loans can end the daunting cycle of working to pay for your education so you can then land a decent job. This economic opportunity is even more desirable considering the state of the massage therapy industry.
Enroll Immediately if you are accepted for one of the many available student loans. Don't stress over saving the money to go to massage school when you could enroll as early as the next available semester. Applications for many student loans are available online and most of the companies are more than happy to help you with the process.
Subsidized Payments allow you to comfortably complete your classes without the worry of having to immediately pay back your loan. With a subsidized loan you do not have to begin repaying the balance until six months after you finish classes.
Competitive Lenders are vying to facilitate your way through massage school. Because of this healthy market you may be eligible for subsidized loans and different kinds of structured repayment plans. Many student loan companies offer tailored repayment plans that take your financial situation into consideration.
A Booming Industry is what you're heading into. Now more than ever the benefits of massage therapy on your health is being widely accepted and cultivated. The Bureau of Labor Statistics (

BLS

) reports that between the years of 2012 to 2022 the massage therapy industry will experience a 23% growth in jobs. It will not be difficult for you to find work as a therapist immediately after graduating massage school and begin paying off your loans.
Respectable Pay for massage therapists is rising slowly but steadily. The

BLS

reports that in 2012 the median for massage therapists was $35,970 per year or $17.29 per hour. The profusion of entry level positions partly accounts for this number, however, the possibilities for entrepreneurship in the field enhance the financial possibilities within the industry.
The time to capitalize on student loans and finance your way through massage school is now. Positions for skilled massage therapists are abundant, and the student loan market is ready willing and able to fund your endeavor into this industry. Your next step: pick a massage school that is right for you and research student loan providers.
Click Here: For more information about our student loan options.