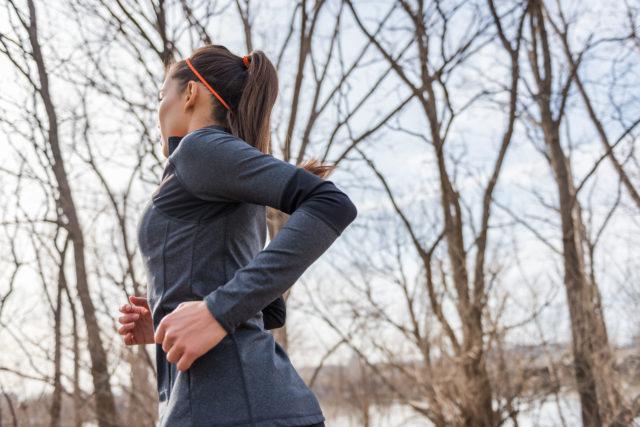 With winter's end looming near, the thoughts of many are turning to shorts and bikini season. After months of thick, shapeless sweaters and holiday indulgence, your clients are probably looking for simple spring exercises to shed extra pounds and firm up neglected muscles. Offer these easy spring exercises to help your client achieve a their beach-ready body.
The Basics
Before starting any workout plan or routine, have your client check with their primary physician to make sure they are healthy enough.
The effectiveness of any exercise routine depends on commitment and consistency. Even light, low-intensity workouts can have a significant impact on general health and physical appearance, if done on a regular basis. Workouts should be done at least 3 times per week. For faster results, do spring exercises up to five times per week.
Most fitness experts suggest 30-60 minutes of vigorous activity each day. Those who can't commit to a large block of time will still see benefits with a series of 10-15 minute workouts.
Always start with a light warm-up, like jogging in place.
Fat-burning aerobic activities are just as important as muscle-toning moves.
Start off easy. Weight and repetitions can always be added later. Don't overdo it!
Finish your spring exercises with some easy stretches.
You can't out-exercise a bad diet. Caution clients to limit calories for ultimate results.
Hydration is important. Health experts suggest at least 64 ounces of water each day.
Easy Spring Exercises
A beach-ready body has toned arms, legs, buttocks, and a strong core. These simple moves can add some perk to your clients' spring exercises. All of these easy spring exercises can be done without special equipment.
Burpees are a wonder exercise. There are variations for every fitness level. When done correctly, Burpees hit almost every major muscle group in the body, but are especially good for the quads, abs, and shoulders. They also increase heart rate to aerobic levels when done quickly.
Sleek, muscular leg and gluteal muscles are the best accessories for summer outfits. Lunges and squats sculpt and strengthen the quadriceps, gluteus maximus, and hamstrings. Add in some weighted arm motions to increase heart rate to fat burning levels.
Bicep and triceps curls focus on two out of three major muscle groups in the arm. The triceps sit at the back of the arm and can become loose, flabby, and unattractive from disuse. Curls with hand weights, or using a machine at the gym, can reduce unflattering pockets of cellulite.
One simple spring exercise that is guaranteed to challenge is the plank. Planks can sculpt abs without a single crunch or sit-up. They also work the glutes, back, and chest for an all-over toning session. This move can be easily modified to avoid pressure on injured body parts.
Bridges target gluteal muscles, where stubborn pockets of fat can be hard to shape up. They also strengthen the hamstring muscles in the back of the leg for a smoother looking limb.
The number of sets and repetitions depends on current physical condition. Those who are just starting their fitness journey should shoot for one set of 15 repetitions of each move (hold plank for 15 seconds), and add sets as strength increases. Those who are more active should add 3 to 4 sets of 15 repetitions to their regular spring exercises.
Help your client achieve their best summer body. Get them started with these easy spring exercises today, and they will be sure to thank you in a few weeks!