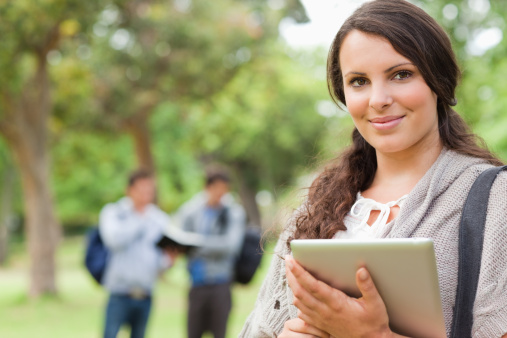 Every day technology is becoming more advanced and more easily accessible. With powerful increases in computers in the past decade, they have become instrumental tools for education, enhancing the learning process internationally.
The Apple iPad in particular makes a powerful tool for students due to its mobility. The iPad allows students to have access to endless amounts of knowledge on any subject. Students with greater resources can advance more quickly, and have a means of troubleshooting when they run into problems, with far greater tools for finding answers than a physical textbook could ever allow for. With each student having this kind of access, the traditional teacher-led mold is broken, and enhanced. Fewer students require individual attention with self-guided options available, and teachers are able to focus where they need to.
iPad technology also appeals to all types of learners, providing something effective for any student's learning needs. There are apps available for pretty much any subject that provide an engaging learning experience. Apps provide a wide range of ways to learn with interactive visuals, engaging layouts, 3D graphics, audio, and text-based experiences.
Practice tests are widely available on most subjects, providing an effective way to study. The great advantage of the iPad is that any of these tools can be used anywhere.
Massage therapy is well-provided for. The 3D Bone and Muscle App provides a full interactive and three-dimensional display of the human body, along with video lessons, and quizzes. The Pocket Body app contains clinical cases, quizzes, and learning material all centered around the human body with a whole series of interactive displays.
The Apple iPad can make a big difference in a classroom as a sole learning tool, or in combination with a textbook for review and practice purposes. For more information on iPads, visit Apple's website.