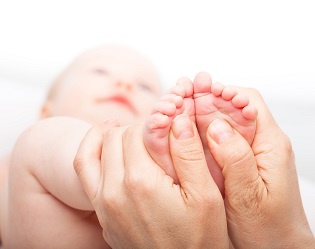 As widespread understanding of the benefits of massage therapy become commonplace, the art and science of the craft are furthered and more uncommon aspects of it are explored. Infant massage is one such branch of massage therapy that has garnered positive criticism for its multi-beneficial effect. Not only does massage therapy help to calm an infant, it serves to strengthen the child's humanistic tendencies and also aids in healthy adolescent development. The full scientific consensus on infant massage is still pending a lot of analysis and research, but that's not stopping practitioners and mothers alike from boasting its effectiveness.
Understanding Infant Massage
The anatomy of an infant and the ailments for which they might need massage therapy vary greatly from that of an adult. A seasoned athlete who may need massage work for sore or tense muscles is going to require a vastly augmented amount of force and precise physical targeting, as where the key for infant massage is soft and gentle.
The Technique necessary for a safe and effective practice of infant massage requires consideration and at least some training. An infant's anatomy is much more underdeveloped than an adult, therefore, errors such as the application of too much force could have a negative effect on the child's physical development. Investing in a massage therapy course before attempting infant massage is crucial to developing a good technique with a solid foundation. Massage therapy for an infant requires paying close attention to how the baby reacts, this will tell you if they find your current technique painful or uncomfortable. Further concentration into the specifics of infant massage is now possible due to its popularity.
The Benefits of infant massage are both immediate and long-term. The soothing touch can calm and relax babies, and also aid in putting them to sleep. A massage can help reduce crying and invariably creates a significant and important bond between the infant and others, most importantly the child's mother and father. A long-term benefit of infant massage is that it can help maintain a healthy balance of the infant's stress control hormones (according to the Mayo Clinic.) As with any infant care practice, if the massage is not performed correctly it could be detrimental. For example, massaging an infant too soon after eating can cause the baby to vomit.
Infant massage therapists benefit from a growing career that is heavily lauded for its positive effect on others. An investment in an education in massage therapy will prepare you embark on this field, and as the practice of, and interest in, infant massage therapy continues to grow so do the job opportunities. Whether it be for personal use with your own family or as a prospective career the time to act is now.
Click Here: For more information about infant massage in seattle massage schools