Succeeding in massage school requires more than just a passion for the field. Such an education program requires the learning of diverse hands-on techniques and the study of human anatomy, physiology, and otherwise. Through the fusion of both and professional development, you'll learn how to use specific techniques and theories to address individual needs. Enrolling in a massage school thus means cultivating your own therapeutic approach through such diverse training.Through this process, you will not only need a passion for relieving others' pain, but also some key supplies to start your career in this growing industry.
Tables & Tools
The foundation for any massage practice is a suitable table, chair, or mat, whether stationary or portable. Accessories help ensure client comfort, from body cushion systems to face cradle covers that add extra protection. Specialized tools will vary according to one's specialization in massage school and include the following.
A range of manual massage tools (T-Bars, Thumbsaver, etc) for specific purposes, from Trigger Points to pressure relief.
Massage Stones or Cryocups for hot and cold therapies.
Thumpers, which are manual or electric tools of eight massage spheres, that provide hand-held stimulation of pressure points.
Hot and cold packs, as well as electrical warming units, for specific therapies.
Exercisers or small balls for improving finger, hand, and forearm strength.
Bolsters, pillows, or wedges for joint support and client comfort.
Other potential tools include accessories for one's table, chair, or mat like cotton, fleece, or disposable sheets, covers, or padding, and towels and cleaning products.
Oils & Lotions
Many supplies are essential for the therapeutic side of massage school, especially in ensuring a relaxing sensory experience for clients. Understand these different therapeutic tools will help you determine which are necessary for your specialization.
Topical pain relievers, balms, and analgesics help relieve muscular or joint pain.
Essential oils come from plants, while blends combine fragrances for various purposes.
Natural herbs fulfill medicinal needs through infusion or distillation with oils.
Skin shields create invisible barriers to help address specific skin conditions.
Creams and lotions address friction and tension while soothing and moisturizing the skin.
Through various courses at massage school, you'll learn which of these diverse tools are best suited to your particular field and adapting to clients' specific needs therein.
Music & Media
Massage school will add various multimedia to your therapeutic toolbox, but you can start with several on hand. Music is the most obvious massage tool in its ability to ensure a soothing therapy experience, but instructional and other books and videos will be important parts of your resource library. Charts, too, will be essential in providing greater understanding of the human body and how massage provides relief. Anatomy, trigger point, and reflexology charts will be useful in massage school and beyond as you learn about and learn to explain pain and therapy, while posters, skeletons, and decoders will similarly support your practice. Lastly, developing concise and clear marketing media will be essential to your long-term professional development – from flyers for your business to business cards and your resume.
With the right tools, you can ensure that your time at massage school starts off right. As you learn various techniques, from pressure point stimulation to more elaborate Swedish massage, you'll expand the tools and wisdom at your disposal. Through the combination of theory, hands-on experience, and professional development, you'll learn to address individual therapeutic needs and understand how human bodies move, hurt, and heal. Gathering some of these essential tools to start will provide the strong foundation you will need for succeeding in massage school.
Click Here: For more information about supplies you might need during and after massage school
Seattle Massage School | Tacoma Massage School | Bellingham Massage School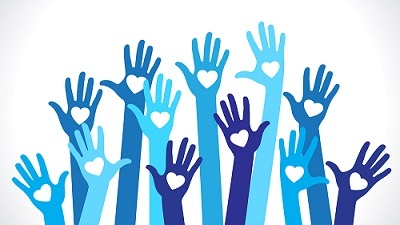 You want to lead a deliberate life. That's part of what led to your decision to join the massage community which includes therapists, healers, herbalists and acupuncturists. Creating a balance between work, school and extracurricular activities is one part of the exciting journey you're undertaking when choosing massage school. Choosing massage school means taking time up front to research all certification options. This research is perhaps the most important first step down the rewarding career path.
Choosing Massage School: Picking the Right Program
One of the first decisions you'll need to make is what type of practice you would like to establish. Consider the following questions when choosing massage school:
Is your goal to work with athletes in therapeutic massage or would you like to focus on just providing comfort and relaxation to your clients?
Would you like to open a solo practice or are you planning on joining a team of providers?
What technique most interests you? Swedish? Reiki? Deep Tissue?
Look at your options when it comes to choosing massage school. Does the program meet state licensing requirements? Is the school accredited? What type of degree or certification will you receive?
How many hours of training will it take? What are the corresponding costs per credit hour. Can the school assist you with financial aid if you need it?
How large are the classes and do they work with your schedule? Small class size means a higher teacher to student ratio, allowing for individual attention. Are there flexible online classes in addition to on-site training? Does the school have multiple locations, which could allow scheduling flexibility in the future.
Choosing Massage School: Community Matters
Just as important as class size is the internal and external community that supports your studies. Massage school can be intense as the best clinical curriculum includes:
Anatomy and physiology
A gross anatomy lab including cadaver dissection
Pathology
Kinesiology
Massage theory and practice
Business management
First aid and CPR
This is a medically-based class load that could include up to a year of intensive study. Choosing massage school within a community of like-minded individuals that support your decision to learn these skills is very important. A community focused on holistic healing, organic and natural foods will likely be a positive fit for your study and practice. Having similarly focused healers within your classes will also provide you with the understanding and support you will need to excel in your studies.
When choosing massage school, take time to visit each potential school, paying particular attention to classrooms, class sizes and cleanliness. What is the neighborhood like? Ask if you can sit in and monitor a class to get a feel for the level of professionalism. Do they have alumni that you could speak with to get a sense of the real life job outlook?
Finally, will the school help with externships or job placement as part of the package?  Of course the cost is a consideration for most students. But if the school has a high graduation rate and the majority of students pass the massage license testing for your state, coupled with a high rate of job placement, this could easily offset the cost factor of massage school.
Choosing Massage School: Ensuring Your Success
Massage certification will not only positively impact your life, but the also the human beings you're seeking to help. Taking the time to make a careful decision about choosing massage school will go a long way toward ensuring your success.
Click Here: For more information about our massage school programs
Seattle Massage Schools | Tacoma Massage Schools | Bellingham Massage Schools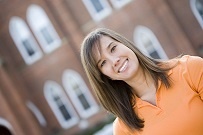 The choice to invest in your future by attending massage school is both smart and realistic. The massage therapy industry is thriving and massage schools are popping up seemingly overnight. Student loan providers are essentially tripping over each other to fund dedicated students, offer them special rates and repayment plans. Add to these ideal conditions a favorable job outlook for massage therapists and you have every reason to finally pull the trigger on this dream career.
Why Pay for Massage School with a Student Loan?
Paying for higher education can often be more stressful than the coursework. This rings especially true for massage school, which many students tend to enjoy. Student loans can end the daunting cycle of working to pay for your education so you can then land a decent job. This economic opportunity is even more desirable considering the state of the massage therapy industry.
Enroll Immediately if you are accepted for one of the many available student loans. Don't stress over saving the money to go to massage school when you could enroll as early as the next available semester. Applications for many student loans are available online and most of the companies are more than happy to help you with the process.
Subsidized Payments allow you to comfortably complete your classes without the worry of having to immediately pay back your loan. With a subsidized loan you do not have to begin repaying the balance until six months after you finish classes.
Competitive Lenders are vying to facilitate your way through massage school. Because of this healthy market you may be eligible for subsidized loans and different kinds of structured repayment plans. Many student loan companies offer tailored repayment plans that take your financial situation into consideration.
A Booming Industry is what you're heading into. Now more than ever the benefits of massage therapy on your health is being widely accepted and cultivated. The Bureau of Labor Statistics (

BLS

) reports that between the years of 2012 to 2022 the massage therapy industry will experience a 23% growth in jobs. It will not be difficult for you to find work as a therapist immediately after graduating massage school and begin paying off your loans.
Respectable Pay for massage therapists is rising slowly but steadily. The

BLS

reports that in 2012 the median for massage therapists was $35,970 per year or $17.29 per hour. The profusion of entry level positions partly accounts for this number, however, the possibilities for entrepreneurship in the field enhance the financial possibilities within the industry.
The time to capitalize on student loans and finance your way through massage school is now. Positions for skilled massage therapists are abundant, and the student loan market is ready willing and able to fund your endeavor into this industry. Your next step: pick a massage school that is right for you and research student loan providers.
Click Here: For more information about our student loan options.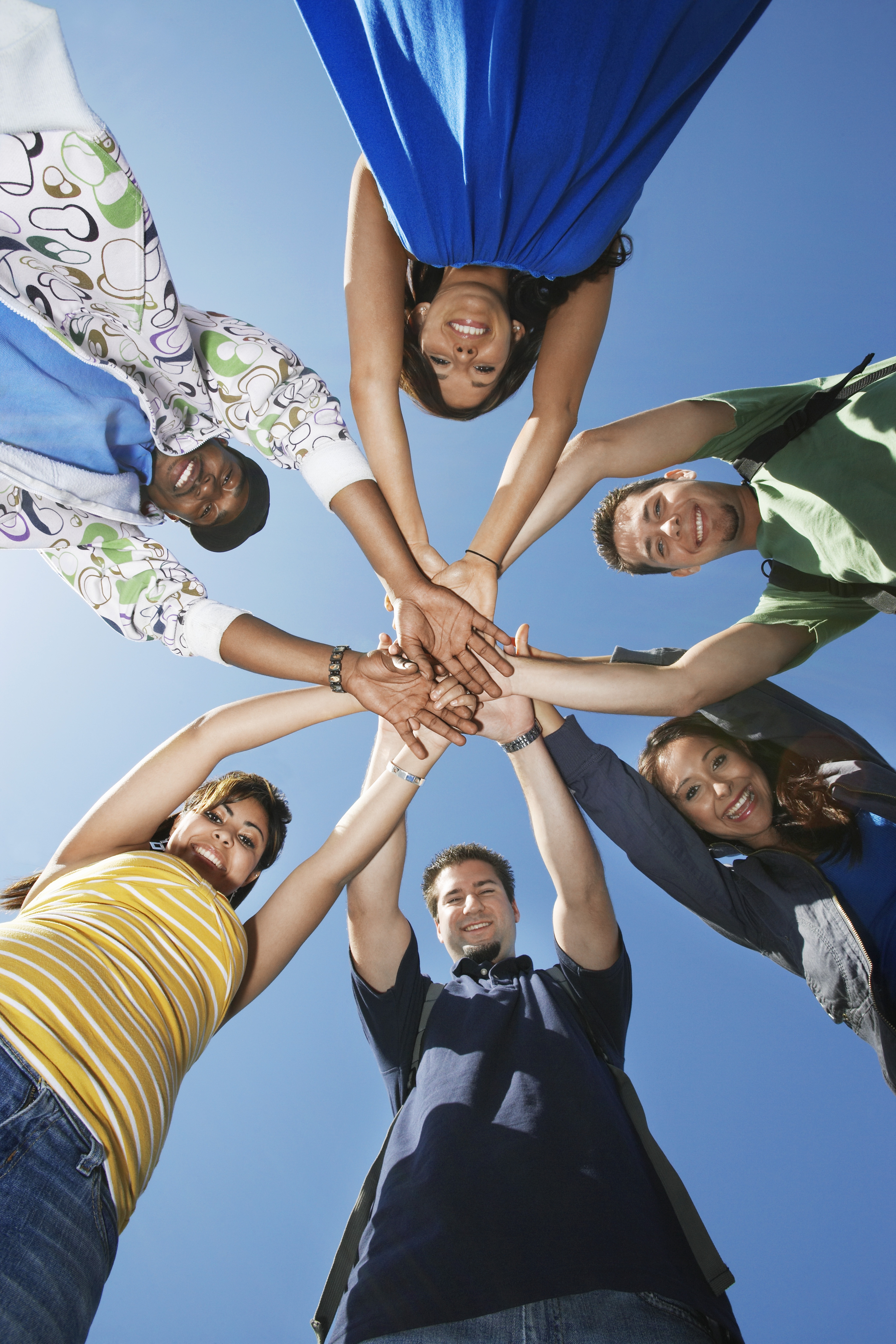 Becoming one of the best massage therapists starts with taking massage therapy classes that provides hands on experiences that help you learn and grow. In fact, some of the best classes to join too receive your massage therapy education are ones that are small in size, and here we will discuss why this size is best while in massage school.
Students are able to Excel Faster
Smaller class sizes allow students to have more one on one time with their instructors and more hands on experiences to help them excel faster in their profession of choice. The more experiences you as a student can have when learning a particular trade the better you will become at the profession of choice, which will allow not just some doors of opportunity to open up for you career wise, but many. The better therapist you become the better income you will have when you are out in the world using your expertise to help provide services to others.
Helps Boosts Self-Confidence
Being in a smaller class of students in massage school also forces you to be more involved in projects and helps you develop the proper skills necessary for being the best massage therapist you can be, which in the long run helps you boost your self-confidence. Anytime your self-confidence is being boosted, the more eager you are to want to learn even more and fine-tune your skills.
Allows Students to Strengthen Weak Areas
When learning a new profession such as massage you will run into strengths and weaknesses. The wonderful thing about smaller classes is teachers tend to notice the areas you are struggling in sooner than later. This allows the teacher to help you strengthen your weakened areas through different teaching techniques with one on one time before, during or after massage school hours so you can be the best you need to be in your profession of choice once you graduate from massage school.
Fewer Distractions in the Classroom
Sometimes with larger class sizes, distractions can happen that take away from your learning experiences going on within the classroom. Joining smaller classes allows you to stay focused and learn all that you possible learn from the information being taught in massage school. After all, you are there in massage school to receive the best education possible so you can go out into the world and put your newly developed skills and education to use helping and serving others in need of your expertise.
Bottom Line for Massage School
As you can see the benefits of receiving an education in a smaller classroom of students is outstanding. You want to leave massage school feeling confident and well educated in all areas necessary to be the best massage therapist you can be for healing people through physical touch, which is one of the best alternative medicines out there.
Click Here: To see who has the smallest classe sizes in Seattle and the Northwest.
Four weeks till the doors open and this massage school becomes a home for many aspiring massage therapist.
Construction is well underway at our newest Tacoma massage school location, an addition to the Northwest Academy family. As you can see below, the lobby demo is complete and new plumbing almost done. We are headed toward drywall repair and painting through the week, with a goal of flooring next week.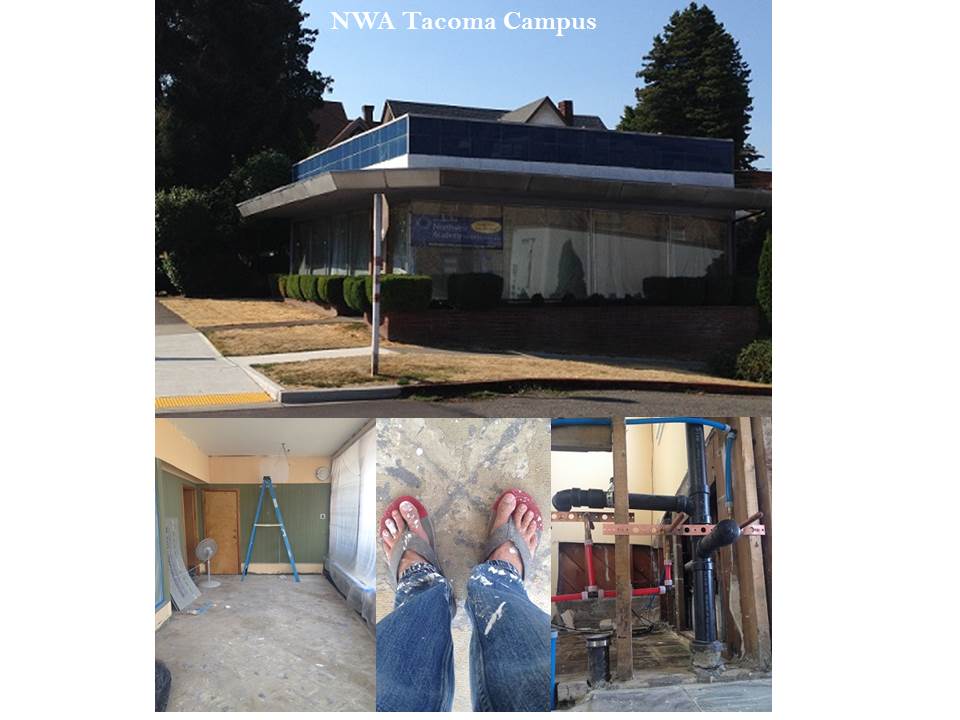 As you might notice,  I included a picture of the traditional massage therapist work boot. This footwear is a staple to massage therapist construction workers around the world. 🙂
Well, I suppose I should get back to work as this new school build out won't do itself.  I will update you all again soon as I progress through the project.
Learn more information about our massage school campus locations!